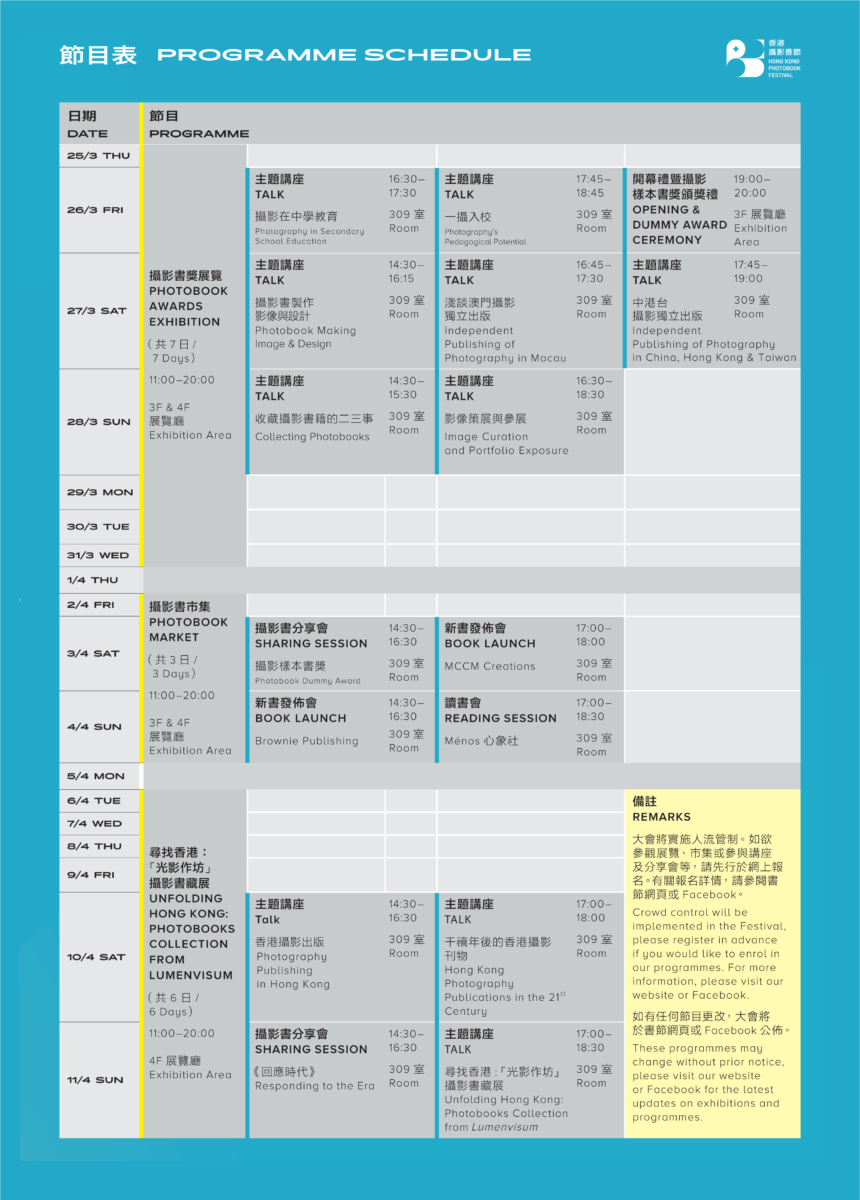 ---
The First Hong Kong Photobook Festival is going to be held from 25 March. We are excited to announce our programme schedule! Do check out the schedule, reserve the dates, and follow our latest registration information!

* Crowd control will be implemented in the Festival, please register in advance if you would like to participate in our programmes.

* The Festival will be divided into 3 rounds. The registration forms of the first round have been released. Join us!
Date: 2021.03.25(Thu) – 04.11(Sun)
Time: 11AM – 08PM
Venue: 3F & 4F, 7 Mallory Street, Wan Chai
Fee: Free Admission

25/3 (Thu) – 31/3 (Wed)
① Photobook Awards Exhibition
② Opening & Dummy Award Ceremony
③ Talks X 7

Photobook Awards Exhibition
Registration Form → https://form.jotform.com/210823637407454

Talks – First Phase
Registration Form → https://form.jotform.com/210737804281050

2/4 (Fri) – 4/4 (Sun)
① Photobook Market
② Book Launch / Sharing & Reading Session X 4
Online Registration
Photobook Market
Registration Form → https://form.jotform.com/210750164897461

Talks – Second Phase
Registration Form → https://form.jotform.com/210748399897478

6/4 (Fri) – 11/4 (Sun)
① Unfolding Hong Kong: Photobooks Collection from Lumenvisum
② Talks / Sharing Sessions X 4
Unfolding Hong Kong: Photobooks Collection from Lumenvisum
Registration Form → https://form.jotform.com/210800163354444
Talks – Third Phase
Registration Form → https://form.jotform.com/210800303624440

---
For any enquiries, please do not hesitate to contact us via email or by phone.

Contact Number:(852) 2777-8766
Email: hkphotobookfest@lumenvisum.org